THE BLACKOUT OF 2003
ARES CANWARN reorganized

KWARC EMERGENCY SERVICES
See KILOWATTER for Monthly

ARES/CANWARN articles
AMATEUR RADIO EMERGENCY SERVICE
The Amateur Radio Emergency Service (ARES) is a voluntary organization of licensed radio amateurs who have registered their capabilities and equipment for providing emergency communications as a public service to the community.
The purpose of ARES is to furnish communications in the event of natural disaster when regular communications fail or are inadequate. Sponsored by RAC, the ARES functions at the local level to meet local communications needs.
The ARES has a long history of public service going back to its formal inception in 1935. Since that time the ARES has responded countless times to communications emergencies. Experience has proven that radio amateurs respond more capably in time of emergency when practice has been conducted in an organized group. There is no substitute for experience gained before the need arises.
The ARES in each locality operates under the direction of the Emergency Coordinator (EC), whose function is to direct the activities of the ARES to maintain a state of readiness. To register in the ARES, fill out then send or give this detachable Registration Form directly to your EC, or to RAC HQ for forwarding to your EC. Membership in RAC is desirable but not required for registration. Registration does not require possession of any special equipment. All amateurs can be of assistance to the ARES. There is room in ARES for every amateur regardless of class of license, equipment owned, or personal circumstances. Please consider joining us in providing this essential Amateur Radio Service?
The Kitchener Waterloo Amateur Radio Club is now affiliated with the Amateur Radio Emergency Service (ARES) organization and is in the process of training it's members to provide Emergency Communications service in time of local or regional disasters.
The Emergency Coordinator for Kitchener-Waterloo is Larry Gorman VE3LGN. If you are interested in becoming a member of our local ARES group contact Larry at ares@kwarc.org.
The KWARC ARES group recently took part in Exercise Download. Click here to read the review.
This ARES Home Page should be book marked as it will keep KWARC members abreast of local and regional ARES activities and exercises.
For more information on the KWARC ARES program please contact our A.R.E.S. Emergency Coordinator Larry Gorman VE3LGN at ares@kwarc.org
ARES IN ACTION October 2006
Ben VE3ST and I recently visited Kitchener City hall to complete the Amateur Radio emergency radio station installation. We have been consultating with city officials since this past spring. After checking out other municipal Amateur equipment set ups Ben put together a package suitable to operate an emergency station from city hall.
KWARC ARES is now an active part of the City of Kitchener's emergency planning program. At a follow up meeting in September, while Ben worked on the roof to complete the antenna connections, I programmed the new Yaesu 8800 dual band radio (@#$*&!!)
(If you buy a new rig that has the option of software programming through your computer, you will never regret the extra expenditure) While the city will own this equipment, KWARC Emergency Services has been asked to supply radio operators when needed.
This ARES rig at Kitchener city hall now has easy access to all of our VHF and UHF repeaters, as well as some in the more distant surrounding community repeaters, as well as selected CAll frequencies.
SInce our last visit the building electrician had completed a major job of routing the feedline down to our communications room, and readying it for hook up. Ben was impressed with the very strong signal strength report coming back from VE3RCK.
The city emergency planning staff will be staging a simulation exercise in early Decemberr to test out their Emergency Operations Centre. We have been invited to participate.
While we no longer have Patch codes it is still possible to contact
Emergency (POLICE/FIRE) via the three digit 911 number on VE3RCK.
Larry VE3LGN
Emergency Coordinator for KWARC
The Aug. 14, 2003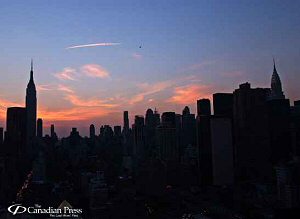 When it became apparent that the power blackout of 14 August might continue indefinitely, the Canadian Red Cross contacted Radio Amateurs Canada for assistance. The provincial ARES Section Manager Rose Scholtyssek VE3RIS via Regional Manager, John VE3DOS in our case, immediately put out the message to expect a call from our local Red Cross if the situation deteriorated. Fortunately, this time, our help was not required.
Meanwhile President Ben VE3ST, with his usual array of emergency gear was active. From his rustic cottage down at Long Point, and relying on battery power and a backup generator Ben was supplying neighbours with emergency power and operating VHF and HF as well as tracking activity in Ohio with UI-View.
The ONTARS net (3755 kHz) extended it schedule into the night, past its 6pm QRT, and the ARES net (3743 kHz) was active, coordinated by VE3EMO Toronto.
Yet another reminder. Tune your VHF radio to VE3RCK (Red Cross Kitchener) when emergency situations arise. And please allow breaks in your rag chews on VE3KSR as well, to allow Emergency notices to get through..
VE3LGN KWARC ARES Emergency Coordinator
From: Bob Cooke VE3BDB
Director Ontario South Region
Radio Amateurs of Canada
Date: 18 Aug 03
To: Ontario Section Manager,(and all ARES participants)
RAC Field Organization
Amateur Radio Emergency Service

I offer my sincere thanks and congratulations to you, your DECs, ECs and all members of the ARES for the swift and appropriate response to the on-going hydro crisis facing most of North Eastern North America in general and Ontario in particular.

Since approximately 1612 HRS EDST on Friday, August 15, 2003, citizens of Ontario, many of them in RAC's Ontario South Region, have faced either the reality or the possibility of no electricity, or both. The implications of such a break-down are enormous and this event once again proves it.

I am aware than ARES nets throughout the Region, as well as other areas, were called up to assist or to stand by, as applicable.

This state of emergency, as declared by the Premier of Ontario, continues as I write these words. The unexpected event of a sudden curtailment of electricity has resulted in two prime conclusions, at least for our people: 1) ARES volunteers are ready, willing and able to provide emergency communications on short notice; and 2) ARES services are, indeed, crucial in emergency situations and that fact must be recognized not only by the authorities but by Radio Amateurs themselves.

I would hope that both of these conclusions will be realized by authorities at all levels and urge all ARES volunteers to continue their vigilance and to be proud of their contribution to the safety and well-being of the citizens of Ontario.

I salute you all.

Sincere 73,

Bob Cooke
VE3BDB
Director
Ontario South Region
Radio Amateurs of Canada
18 Aug 03

ARES -CANWARN Reorganized
July 27, 2003
KWARC Emergency Services and CANWARN have been streamlined and reorganized. This has taken some time, and your outgoing President Bill VE3ETK is to be commended for initiating this long overdue process.
The new paradigm [Greek:-an example or model] is more responsive to the expanding expectations of the local and Regional community. Our club has taken on the responsibility of supporting both of these services. ARES in some areas is operated by a group of locally interested amateurs. In some cases a Ham is also a Municipal employee who co-ops the services of the resident Amateur community. CANWARN only functions in the province of Ontario at this time and then only in a limited number of areas. It was initiated by Randy Mawson VE3TWS the Weather Office manager in London, and is an arm of the Federal Ministry of the Environment Severe Weather Service. Its counterpart in the USA is known as SKYWARN
As of this year K-W Amateur Radio Emergency Services (ARES) encompasses both general emergency communications needs in the Region of Waterloo, and severe weather reporting for CANWARN. We have close ties with the Regions Social Services groups, as referred to in previous ARES columns. Local CANWARN nets operate with the help of local Amateurs, and report dangerous weather phenomenon directly to the Toronto Severe Weather desk. This may be used to pass updates to the media. Our key contact here is Isabel Ruddick, who you may have seen recently in a weather clip on the Weather Channel (16 cable).
During March and April I canvassed for ARES assistants, and almost two dozen Hams responded CANWARN officially signed up about 45 members at the annual spring presentation held at UoW.
Anyone who still wishes to become part of ARES may contact me at my e-mail address listed in the Executive Committee box in the Kilowatter.
The key members of our ARES management team are: Ron Gravelle, VA3TVS who has again taken on the role of CANWARN Manager, Ben Sasiela, now VE3ST, as Assistant ARES Coordinator, Chris Gautreau, VA3CEG a Venture Scout with the UoW Scout troop, Larry Gorman VE3LGN as overall ARES Emergency Coordinator. This is our Net Control Group. We are rostered such that a pair of us will be on call at all times to monitor and respond to CANWARN call ups. Each has a pager that is connected directly to the Ontario Region Severe Weather desk in Toronto. This is the agency that initiates Severe Weather announcements to the public.
As the pager callout is Ontario wide, one of our responsibilities is to analyze radar weather scans to determine if our area will be directly affected. Thus we may occasionally announce a heads up to the effect that we are still evaluating incoming, but have not yet begun a CANWARN Net.
If you should be called in an emergency consider helping. If you spot damaging weather, don't hesitate to put out a call on your radio. Remember that one of the mandates of Amateur radio is "We Serve".
A reminder for those who purchased a RAC -ARES bill cap. Having arrived the day after our last meeting, they will be available at the June club meeting.
73 Larry VE3LGN
ARES EC