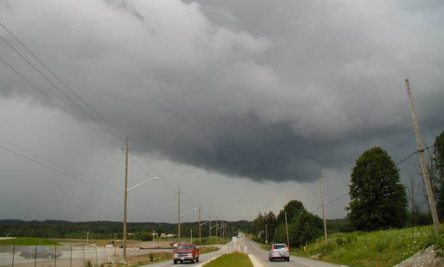 Non-rotating wall cloud (non-severe type, above Erbsville road)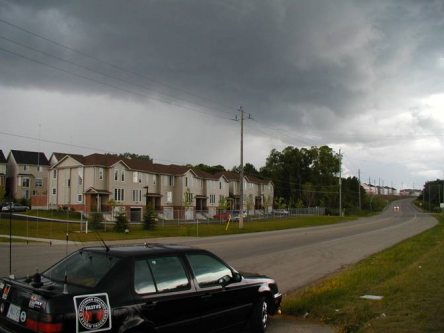 Rain core tracking from east to west, (Erbsville road)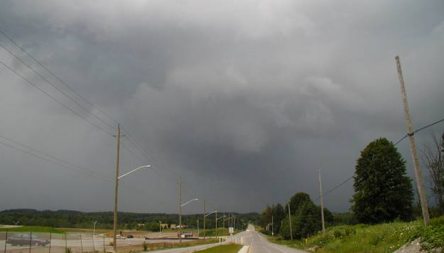 Non-rotating cell with false funnel (NW Waterloo tracking from the east to the west-southwest)
On Saturday July 17th, a series of storms rolled through our region.
While no severe weather was reported by any of our spotters, Ron Gravelle VA3TVS did manage to take a few snaps of the storm cells as they swept through the Kitchener and Waterloo areas.
On Sunday July 18th, there were a series of cells that formed and swept past to the west-southwest of Kitchener and over Petersburg. Paul Cassel VE3SY did experience small to moderate frozen graupel (even though they look like hail and were formed from a garden variety (max 24,000 ft) thunderstorm, while supercellular hail is a layer of ice and formed inside of a Cumulonimbus cloud, over min. 30,000 ft high)
We can expect more in the way of thunderstorm activity this week (Wed afternoon and evening, Thurs morning and Fri morning) as the air continues to destabilize as cooler air overruns the warm air near the ground. However, this weekend looks to be clear and dry, but cooler (19-20C max) and more comfortable for those folks without air conditioning).
Ron Gravelle VA3TVS
KWARC Canwarn Manager




© 1996-2004
Kitchener-Waterloo Amateur Radio Club Inc.
Privacy Policy

This Site Sponsored and Hosted by
K-W IGS offering 3mb DSL for $34.95


last updated July 20, 2004 17:45

Hits=5852