KWARC COVID-19 Nets
The World Health Organisation, Health Canada, Ontario, and the Region of Waterloo are all telling us to cancel all events of more than 5-10 people at the moment. Many of our KWARC members are among the more vulnerable population segments. Though we are part of the Region's Emergency Preparedness Plan, the best advice is still to "Stay At Home" unless/until our communications services are required and carefully activated. KWARC will be holding its monthly meetings "on the air" for the foreseeable future, on our club repeater VE3RCK, but also taking advantage of online tools.
"Health-Can and WHO-endorsed social distancing.
KWARC-endorsed distance socialising"
Some early experiments have shown that Zoom can supplement our "on air" nets, enabling us to replace the visual "face to face" aspect of our 250 Gage meetings. This also avoids excluding new/unlicensed members, or members without 2m equipment, by allowing the repeater to be streamed live online.
How the nets will be run
Beginning around 7PM on Zoom and VE3RCK, pre check-ins sometimes earlier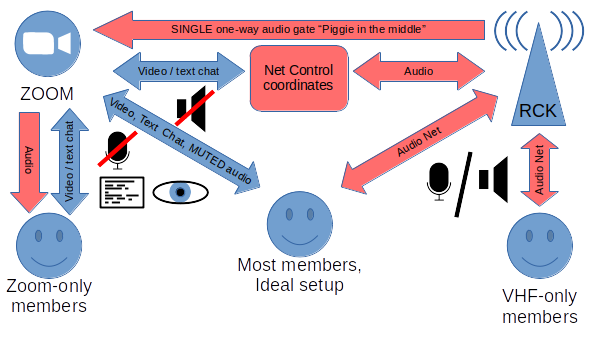 Repeater details
We will be using VE3RCK on 146.865, -ve repeater offset (input 146.265), with 131.8 CTCSS "PL Tone".
Zoom details
Some people download Zoom minutes before their first meeting. You can download Zoom in advance if you wish, very simple install, usually takes less than 2 minutes. Available for Windows, Mac, Linux, iPhone, Android, almost everything, there is even a version which runs in your browser, however this has limited features. You do NOT need to "sign up for a zoom account" to join meetings. The Zoom Meeting ID and password will be shared on the 2m FM net, and/or by email. Please email Nick <> or any other KWARC exec member for the Zoom details if you have not already received them.
If you wish to join ONLY the 2m net:
You are welcome to join us on just the "real ham radio" segment of the meeting "on air". This will operate much the same as any other 2m FM net, however you will be missing out on a few visual elements, and may find it harder to get the attention of net control without being able to literally raise your hand to speak (see below). Net Control will endeavour to leave time between overs to allow you to break in.
If you wish to join us on 2m AND Zoom video online:
For the best experience, join us on VE3RCK and join us on Zoom.
Please MUTE your Zoom mic at all times.
Please also turn down your Zoom SPEAKERS to reduce/avoid potential annoying echo/feedback:

YOU → repeater → gateway → Zoom → YOU again

Ideally plug in your earbud / headset / headphones into your Zoom Device.

Talking will be primarily on VE3RCK (as above). To be clear: We will not normally be speaking on Zoom except via the repeater. The "audio gateway" will be sending your audio into Zoom.
Please enable your webcam if you have one, and feel free to wave or raise your hand so net-control knows you wish to speak next. You can also use Zoom's text "chat" to enhance the primarily "on air" net.
If you wish to join us on Zoom ONLY:
If you are unlicensed or have no 2m equipment, we would still be delighted if you join us, we wish to include you in our meetings, as we would if we were still meeting at 250 Gage. Please join us on Zoom. You should be able to hear the repeater net on Zoom via our audio "gate", however you will not be able to transmit at this time. Please enable your webcam if you have one, but keep your Zoom mic MUTED and use Zoom's text "chat" to communicate via Net Control who will read out your questions/comments as soon as they can.
Zoom tips
It's usually safer to mute when not talking - use the microphone icon in the bottom left.
Would be nice if you can set your Zoom "Settings... Profile" to include your callsign after your name
In the top-right you usually have a choice of "Speaker View" (which will always be the audio gateway) or "Gallery View" (which will be much more useful, a "Brady Bunch" screen with all our webcams)
You can Test/Set your Speaker & Mike volume settings (AUDIO)
Feel free to change your Reaction Hand Color (GENERAL). Note that reactions are not seen by all clients.
Zoom can do some fun background effects. Don't say "I have a green screen" unless you really do. If your PC is powerful enough, you can do some interesting "virtual green screen" effects, animated if your PC is even more powerful. These may not be available on tablet/phone versions of Zoom.
For all of the above, please ensure your various handis, laptops, and phones are well charged OR plugged in - would be a shame to drop partway through!
-- Nick VA3NNW, KWARC Treasurer