Serving K-W Radio Amateurs Since 1922

Field Day 2001
Top Band 160metre
by Paul Cassel VE3SY
Once again KWARC held its annual Field Day Emergency Preparedness event at the Doon Pioneer Crossroads in Kitchener. This setting is circa Waterloo County from 1900 and has been an excellent location for public exposure as well as helping to draw attendance to the Village.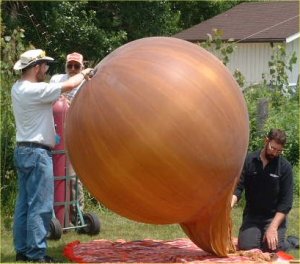 This years "Big Event" for the KWARC Field Day was the efforts by Gord VE3EOS and Don VE3ESE being QRV on the Top Band (160 metres) with a respectable signal.
Using a surplus weather balloon, Gord and Don were successful at launching a full 5/8 verticle (about 330 feet) beneath the balloon that Gord, Don and Ken are seem here during the filling of the balloon.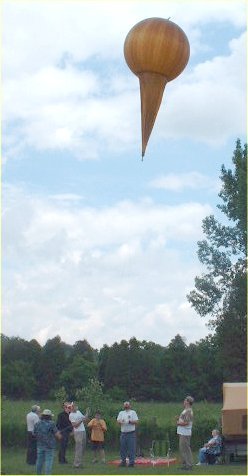 Typical of any military surplus device the operational instructions were very difficult to follow. Gord and Don fabricated a special assembly to fill the balloon from a tank of helium normally used to fill kids balloons at a Birthday Party.
When the balloon was filled with what was deemed to be an adequate amount of gas, the balloon was launched into darkening skies (darkening from the approaching electrical storm) Not wishing to reply the Ben Franklin experiment and with the winds creating a real challenge, the balloon was lowered until the disturbance passed by and the winds died down. Prior to the re-launch, it was decided to modify the bottom tail of the balloon by cutting off the section that normally acts as a parachute to return the weather instruments to the ground.
By the time the new configuration was launched it coincided with sundown which is when 160 metres starts to open up anyway.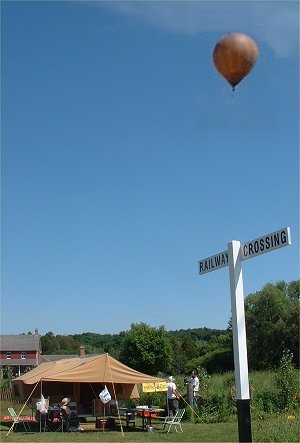 During the evening Gord and Don were able to work 57 stations on 160 metres but were forced to reduce the length of the antenna to 1/4 wave due to the front-end overload believe caused by the high gain and low angle of radiation from the 5/8 wave antenna.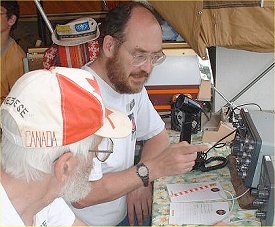 For a run-down on the rest the of K-W ARC Field Day
please click here
For More FD Pictures click here
Photos by Paul VE3SY
This page uses frames, but your browser doesn't support them.