Fred's 86th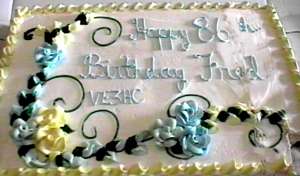 Birthday Party
There was a great turnout for Fred's 86th birthday party with about 40 or so friends and family in attendance.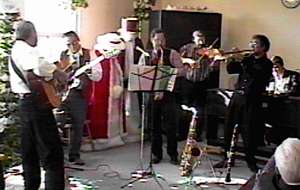 The Best HAM BAND was in attendance. The name of the group was coined during the afternoon since Larry Best (left) on guitar was the only non ham joining Rocco VE3YJ on guitar, Gerry VE3DYY on sax and clarinet, Paul VE3IDH on fiddle, Rich VE3DCC on trumpet and John VE3AMZ on Piano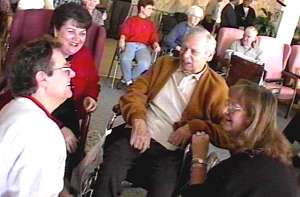 Fred's son Rob VE3EIL (left) is here along with his wife Sheila (right) and Dianne Riddell (xyl of VE3AMZ) are shown here visiting with Fred who was in great spirit for the whole party.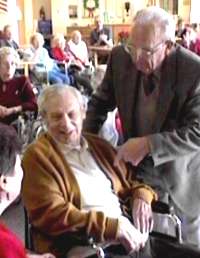 Fred's two brothers Ken and Roy were also in attendance. Brother Roy (who is 93 years young) and Dianne Riddell (left) visit here with Fred.
Ken Hammond is active on the Internet. Both Ken and Roy are overwhelmed with the number of visitors and world-wide responses with e-mail and Guestbook greetings for Fred.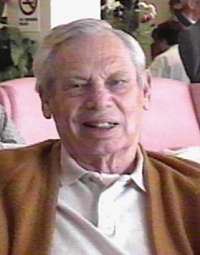 Those having been touched by Fred's genrosity and assistance over the years are urged to drop a brief note in the Guestbook.
Here is a sample from the Guestbook.
By: Terry Harvey, VE3 HSH
From: Kuala Lumpur, , Malaysia
E-Mail: <tjharvey@ppp.nasionet.net>
My greetings to Mr Fred Hammond and I sincerely wish to express my best wishes for his recovery. I am grateful for his encouragement in the study for my Amateur Licence as a youngster years ago with the Guelph Amateur Radio Club at the factory (1974). The radio technology learned then provided the nucleus to pursuing an engineering career in the far-east! Best regards and Season's Greeting from Malaysia.
Those wishing to drop a card to Fred should address same to:

Fred Hammond, VE3HC
Hammond Manufacturing Company
394 Edinburgh Road
Guelph, Ontario
N1H-1E5


[ Top ]

updated August 01, 2005


© 1998 Hammond Museum of Radio
For more information email museum@kwarc.org

Web space courtesy of Information Gateway Services
Kitchener-Waterloo


Comments and bugs reports to
webmaster@kwarc.org

Hits=2777