The
Sanderson Hour

A memorial to H.R. "Sandy" Sanderson
VE3AHW
| | |
| --- | --- |
| | It is with regret we announce the sudden passing of Joe "Gas" Yuricek VE3WG on September 24, 2003 |
Long Time Sanderson Hour member Fred Hammond VE3HC passed away Sunday November 07, 1999. Click here for details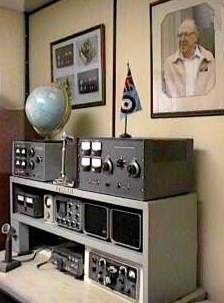 Starting some time back in the late 60s or early 70s, VE3AHW, A.H. "Sandy" Sanderson got together with a bunch of his friends each evening at various spots in the 40 or 75 metre band.
After several years of everyone hunting for the frequency of the evening, Bill Atcheson VE3AUJ suggested that he would show up early on one frequency and hold it for the get together. For one reason or another the frequency of 3762.5 kHz. was picked and has been in use every evening since.
You can click here and view an informal listing of regular check-ins over the years.
Net founder and chairman Sandy Sanderson passed away February 18, 1988. On his passing Bill VE3AUJ polled the group to see if they wished to continue and if so what should they call it. Fred Warburton VE3KU suggested the "Sanderson Hour" which it has been known to this day. The job of informal net controller was assumed by Bill Atcheson VE3AUJ of Woodstock, Ontario who calls the gang together each night to solve the problems of the world.
The following series of photos will put a face to several of the group who you will hear most nights after 21:00 hrs eastern time.
Fred Hammond
VE3HC "SK"
Bill Atcheson
VE3AUJ
Fred Richards
VE3FYR
Micheal Ennis
VE3AO
Herb Lehman
VE3BZU
Baxter Smith
VE3BFX

Jack Dolson
VE3GED
Fred Warburton
VE3KU <SK>
Ralph Cameron
VE3BBM
Joe Yuricek
VE3WG (SK)
Lee Durling
VE1WP ex 3VF
Luie Bot
VE3CUB
Steve Kosa
VE3TU
Brian Biggings
VE3XA
Paul Cassel
VE3SY
Jerry Sky
VE3FKS
Terry Doll
VE3MFR
Larry Parker
VE3EDY
Dave Trbizan
VE3JZ
Joe Caberlin
VE3ABG
Bill McElroy
VE3BM
Stew Scott
VE3CW
Do you have any pictures of any Sanderson Hour members? If so, e-mail scans to paul@ve3sy.com This page will develop as trivia info is secured, .
73
de Paul Cassel VE3SY
a late comer to the Sanderson Hour
[ KWARC Home Page ] [ The Sanderson List ] [ Our Guest Book ]
[ Fleamarket Photos ]
You are visitor 27923 since March 24, 1999
updated March 13, 2004
Thanks to K-W Information Gateway Services for this web space